How Much Does Pride Counseling Cost? What's their price?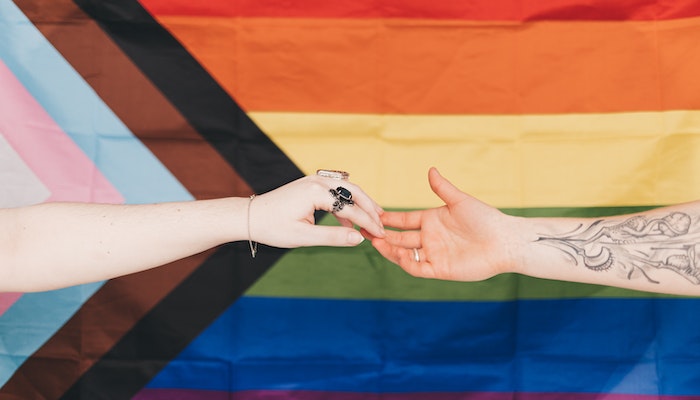 Pride Counseling is an online counseling company that specializes in unique therapy for the LGBTQIA+ community, as the company recognizes that this demographic suffers from mental illnesses at a disproportionately high rate.
Your first thought may be, but "how much does pride counseling cost?" The Pride Counseling price takes into consideration that the option of therapy means nothing if it isn't accessible to those of all incomes, no matter how low.
Additionally, Pride Counseling offers online therapy, another benefit that not only reduces traveling costs, but helps provide a discreet way for LGBTQIA+ members to access therapy, without fear of people finding out which could put them in danger.
So how much does Pride Counseling cost? And how does it compare to in-person counseling prices
Pride Counseling Price: The Pride Counseling price is one of the more affordable options on the online therapy market ranging from $60-$90/week, billed every 4 weeks. Most other "affordable" options start at a base price of $100.
In-Person Therapy Options: The website is also extremely more affordable than in-person therapy options. Many in-person therapists charge hundreds per hour, compared to the pride counseling price of less than $100 for a once a week, month's worth of sessions.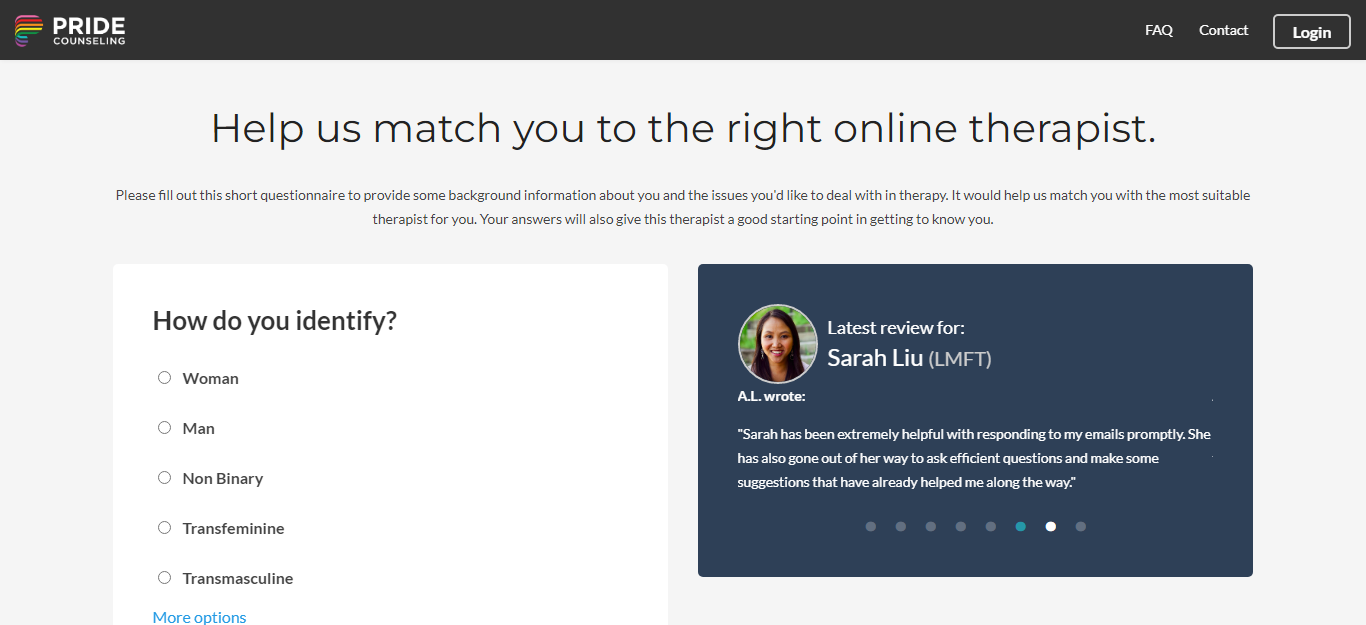 Pride Counseling Service Overview
Sign-Up Process: When signing up for Pride Counseling services, you will be asked a short series of questions. Some of the questions ask about your gender identity, and sexual orientation, as well as basic questions about your current sleeping and eating habits. These questions will help the website's algorithm match you with a suitable therapist. Once you're matched with a therapist, therapy sessions can begin.
Communication Methods: There are many different ways to communicate with your therapist such as: phone calls, instant messaging, video chats, and online/in-app live chats.
Costs and Billing: Members are billed on a monthly basis, and the price ranges from around $60-$90 per week. Rate's included one session per week with your therapist of the various communication methods, as well as group webinars and worksheets. If the rate is still too expensive, Pride Counseling offers payment plans.
Cancelation Policy: Members can cancel whenever they want and why they want with no explanation.
Is Pride Counseling the Right Choice for You?
While Pride Counseling prides itself on its accessibility, there are, unfortunately, a few circumstances where the service won't be right for you.
You are in an urgent crisis or emergency situation
You're in court-ordered or another authority-ordered therapy
You don't have a device such as a phone or a computer or you don't have reliable internet access
You are a minor or under the care of a legal guardian
Who are the Therapists and Counselors?
All therapists on Pride Counseling have accredited psychologists (Ph.D./PsyD), licensed marriage and family therapists (LMFT), licensed clinical social workers (LCSW/LMSW), or licensed professional therapists (LPC).
According to the Pride Counseling review official website all therapists "…have been qualified and certified by their state's professional board after successfully completing the necessary education, exams, training, and practice."
In addition to this, all therapists have either a Master's Degree or a Doctorate Degree in their field. Lastly, the therapists all specialize in the LGBTQIA+ community. 
Specific Issues the Therapists Specialize in:
Stress and anxiety
Relationship problems
Depression and trauma
Eating and sleeping issues
LGBT matters
Self-esteem issues
Religious Trauma
Parenting and family conflicts
Grief and loss
Pride Counseling Price vs. Other Online Therapy Services
LGBTQIA+ Focused: There are a wide variety of online therapy services available online today, however not all of those options specialize specifically in therapy for the LGBTQIA+ community.
It's extremely beneficial to have a therapist who specializes in LGBTQIA+ issues as seekers of therapy won't have to worry about their therapists secretly looking down on their "lifestyle" or assuming gender and misgendering them.
Therapy only works when you have a good relationship with your therapist, so it's important that you have one you can trust isn't judging you based on social stigma. 
Affordability: Pride Counseling is great value for money compared to other specialized options. See the pricing section here.
Real Members Reviews and Testimonies
"Pride Counseling is absolutely amazing. I have been with my counselor for a few months now and she has helped me in ways immeasurable. If you are in need of a service like this I can only recommend them again and again and again. Their app and website are also easy to use and very accessible."
–Anonymous
"Pride Counseling paired me with a fabulous counselor. I've had 3 sessions and already feeling helped. He's a good listener and picks up on things it might be good to talk about. His input is very helpful."
–Anonymous
"I love this service! 🙂 My therapist has been the absolute best. She helps me to continue to strive for new goals and recognize how far I've come and can continue to go. She's always open to conversations. I would highly recommend this group to anyone looking for counseling."
–Anonymous
Pros:
LGBTQIA+ focused therapy and support
Accessible and affordable pricing
Multiple ways to communicate including: phone call, video, instant messaging, or live chat
Professional, qualified therapists and counselors, all with a minimum of 3 years and 1,000 hours of experience in the field
Discreet
Can cancel anytime
Cons:
Therapists are matched by an algorithm, not allowing you to specifically choose who you want (however, you may request a different one if the picked provider isn't a good match)
Therapists response times depend on how busy they are
Therapists cannot provide support for serious mental health conditions such as cluster B and C disorders, like schizophrenia and bipolar disorder
Not covered by insurance
Must be 18+ to use service
Therapists cannot diagnose patients or prescribe medication