Those in the LGBTQIA+ community often face significant social stigma and discrimination against them because of homophobia in the world today.
Even when they aren't facing direct homophobia, they may be met with secret hostility and social exclusion. The repercussions of this in an LGBTQIA+ individual may lead to extremely negative consequences such as: negative self esteem, depression, and anxiety.
However, an organization named Pride Counseling, a subsidiary of the better-known online therapy service Better Help (find out more here) is working to combat this problem. Pride Counseling's goal is to offer accessible and affordable, online therapy with a unique focus on the LGBTQIA+ community.
We're doing a Pride Counseling Review so you don't have to, this article will also include real Pride Counseling Online Reviews so you can hear what real members are saying about the service.
Pride Counseling Review: Who is it NOT a Good Option for?
While Pride Counseling maintains a strong focus on accessibility, there are still a couple of situations where it may not be the right choice for someone.
You are in an urgent crisis or emergency
You are required by a court or some other high authority to attend court
You don't have a device that can connect to the internet such as a phone or computer
You don't have access to a stable and reliable internet connection
You are a minor according to your states law or you are under the care of a legal guardian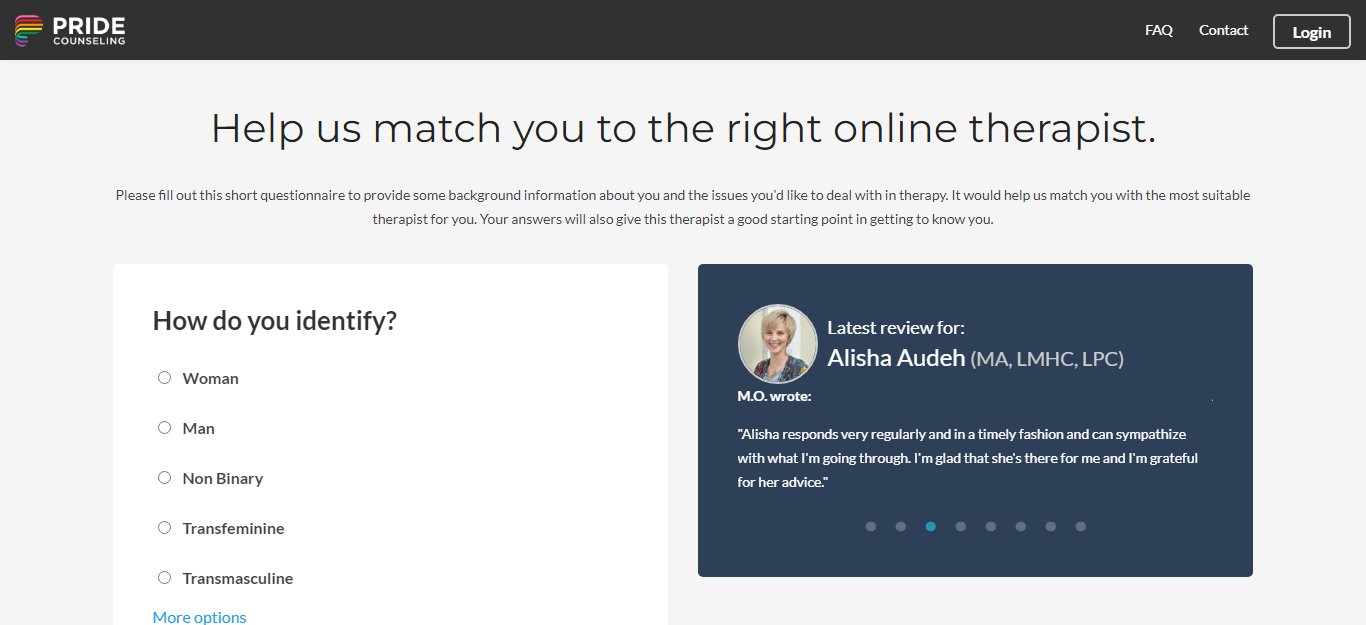 Pros and Cons of Pride Counseling
Pros
Financial aid available
Discreet
More affordable than other online LGBTQIA+ services
Easy format and layout
Ability to switch therapists at any time
Able to cancel service at any time
Cons
Not available to minors
Not suitable for emergency or crisis situations
Therapists cannot prescribe medication or HRT
Therapists cannot give official diagnosis'
Therapist is assigned by algorithm
Doesn't accept insurance
Real Pride Counseling Online Reviews and Testimonials
"This has been an amazing experience. They have great therapists and give you the choice to change if things don't fit. The price is affordable and everyone is very caring and doesn't judge you. It's a great resource for LGBT people."
–Anonymous
"Truly life-changing, and WELL worth the money. I was skeptical about how much therapy could help me, and even more skeptical about this web-based platform, but all I can say is that I am so happy I took the plunge and got it."
–Anonymous
"I received more than expected after signing up on this app. I pay a more than fair price for everything that is available for me to use when I wish…Highly recommend it to anyone seeking to better their mental health, whether you're going through a difficult time and reaching for help or just curious about what therapy has to offer – you will find something to benefit from here.
–Anonymous
"I was matched with a counselor within an hour, had a great first conversation, and have never had to wait more than a day for a response! Hands down one of my MUST-HAVE apps on my devices for help whenever I need it or just to share a thought to discuss later in a non-judgmental room."
–Anonymous
Pride Counseling Sign-Up Process
In order to become familiar with the service to ease some anxiety before signing up, this section of our Pride Counseling Review will give you some insight into the sign-up process.
Fill Out Questionnaire
You must first go to pridecounseling.com where you will be prompted with a quick questionnaire. The questionnaire is designed to match you with a therapist according to the answers you give. Questions on the questionnaire include things such as: your gender identity, your sexual orientation, your current mental well-being, your current sleeping habits, etc.
Create Your Account
After you've finished the questionnaire, you will be prompted to create an account. You won't have to include your first and last name, you may simply enter your nickname. You will also need a valid email.
Automatically Match with a Therapist
The Pride Counseling website will automatically match you with a therapist they think would be a good fit. 
Payment Plans and Billing
Pride Counseling offers financial-aid discounts for people with lower incomes. The service also gives the option for discreet billing so that on the patient's account, the charge won't show up as it being for therapy. Prices range from $60-$90 per week (billed monthly) and include a session of live chat, video call, or a phone call, as well as messaging to the therapist at any time.
Canceling the Service
You can cancel the service at any time for any reason, and you will have access to the service until the end of your paid subscription period.
Pride Counseling Services and Specializations
The goal of Pride Counseling is to provide accessible and affordable therapy specifically to those in the LGBTQIA+ community. They offer many different services and have a wide range of specializations.
Therapy Methods Offered
ACT
CBT
Mindfulness Therapy
Client-centered Therapy
Psychodynamic Therapy
Emotionally-focused Therapy
Communication Methods Offered
Both desktop and mobile services are available to patients.
Live phone call sessions
Live video sessions
Chat room messaging
Counselor Specializations
Trauma
Stress and anxiety
Grief and loss
LGBTQIA+ issues
Relationship and family issues
Eating disorders
Substance abuse and addiction
Life and career challenges
Final Thoughts: Is Pride Counseling the Best Online LGBT Therapy?
After reading this Pride Counseling review along with the various Pride Counseling online reviews, we hope that you now have a basic understanding of the service and are more suited to figure out if you'd like to use the service or not.
We believe Pride Counseling is one of the best options available for the LGBTQIA+ community, however, all types of therapy will be beneficial to those who need it.
Affordability: Pride Counseling is one of the cheapest and most affordable LGBTQIA+ focused therapy services available on the market today. The company also offers financial aid options unlike a lot of other online therapy services for LGBTQIA+ people.
Compared to other online therapy companies for LGBTQIA+ they offer additional options for discretion, such as disguising the service name on billing info so that people won't be able to tell the patient is undergoing therapy.
Professionalism: The therapists on Pride Counseling have more experience than some other online therapy options. All therapists on the website are licensed by their state professional board and have over 3 years and 1,000 hours of experience in the field. It's required for all therapists on Pride Counseling to be either a PhD/PsyD (accredited psychologist), an LMFT (licensed marriage and family therapists), a LCSW/LMSW (licensed clinical social worker), or an LPC (licensed professional therapist). Additionally, all therapists have either a Master's Degree or a Doctorate Degree in their field.
Pros and Cons of Online Therapy and In-Person Therapy
There are benefits to both online therapy and in-person therapy, however, different therapies may be more or less beneficial for people under different circumstances.
Pros of Online Therapy
Significantly cheaper than in-person options
Convenient and easily accessible
In the comfort of your own home
Cons of Online Therapy
Not usually covered by insurance
Some states don't allow therapy providers from out of state
Not for urgent emergencies and crisis'
Pros of In-Person Therapy
More treatment options and can deal with more serious psychological problems
Decades of research proving its benefits
Service is done in a neutral location
Cons of In-Person Therapy
Rates can be extremely expensive
Need a way to commute to the building and appointments only available at certain times
Unique Therapy Challenges for the LGBTQIA+ Community
Therapy is a stressful experience for a lot of people, no matter their sexual orientation or gender identity. However, when you add those factors on top of the already difficult experience of finding a therapist it can be even more stressful for the individual.
Aggressions and Microaggressions
While right now more than ever the LGBTQIA+ community is becoming accepted, there are still a lot of people that are against the community. People may purposely be aggressive towards LGBTQIA+ individuals or throw microaggressions their way either purposefully or accidentally. While the severity ranges between these, all can cause significant harm either physically or mentally to a person, especially if it's coming from a therapist who they're supposed to be able to trust.
Transgender Microaggressions
"You're just confused"
Purposely misgendering a trans person
Gay Microaggressions
"Why'd you choose to be gay?"
"I'm not homophobic, but…"
Lesbian Microaggressions
"You don't look like a lesbian"
"Which one of you is the guy?"
Non-Binary Microaggressions
"You're just confused"
"You're either a boy or a girl"
Need for Secrecy and Discreteness
Because of social stigma, people in the LGBTQIA+ community face threat to their physical well-being from both people and governments over their gender identity and/or sexuality. There is an important need to be discreet in their search for help and for therapy because it may not be a safe time or place to "come out".