What is a Gender Therapist?
Recently, you might have heard comments as my gender therapist said… Or you might have been told to see a Gender Therapist.
But what is a gender therapist? We will be sharing details about what gender therapists are and providing tips on how to determine if your therapist is ideal for you.
Gender Therapist (Who and What)
Before we can describe a gender therapist, we have to define gender therapy. Gender Therapy is the process of using dialogue and other resources to help people connect with their body and gender.
In certain cases, an individual might be recommended to an endocrinologist or outright decide on surgery after spending time with the therapist.  Now, to the big question?
What is a Gender Therapist?
A gender therapist refers to the individual who facilitates the therapy session. Such a person guides a client to a solution that satisfies the client's needs.
They are also Individuals who are knowledgeable in gender dysphoria, identity (and other gender-related issues) and can adeptly navigate through the intricacies of the conditions.
A gender specialist also helps people transition and seeks to make the process as easy and comfortable as possible.
Although some of their patients include the LGBT+ crowd, a gender therapist knows the difference between the two conditions.
Therefore, these persons work with precision and quality while helping the client the best way they can. Read more about finding the best gender therapist here.
✔️ Helpful hint.
Here at ANZPath we highly recommend using Pride Counseling for LGBTQ+ Therapy Services. There you'll be matched with the best gender therapist online that suits you.
It's convenient, affordable and most of all, they have some of the most skilled gender therapists online.
Fill out this questionnaire at Pride Counseling to get matched with a therapist.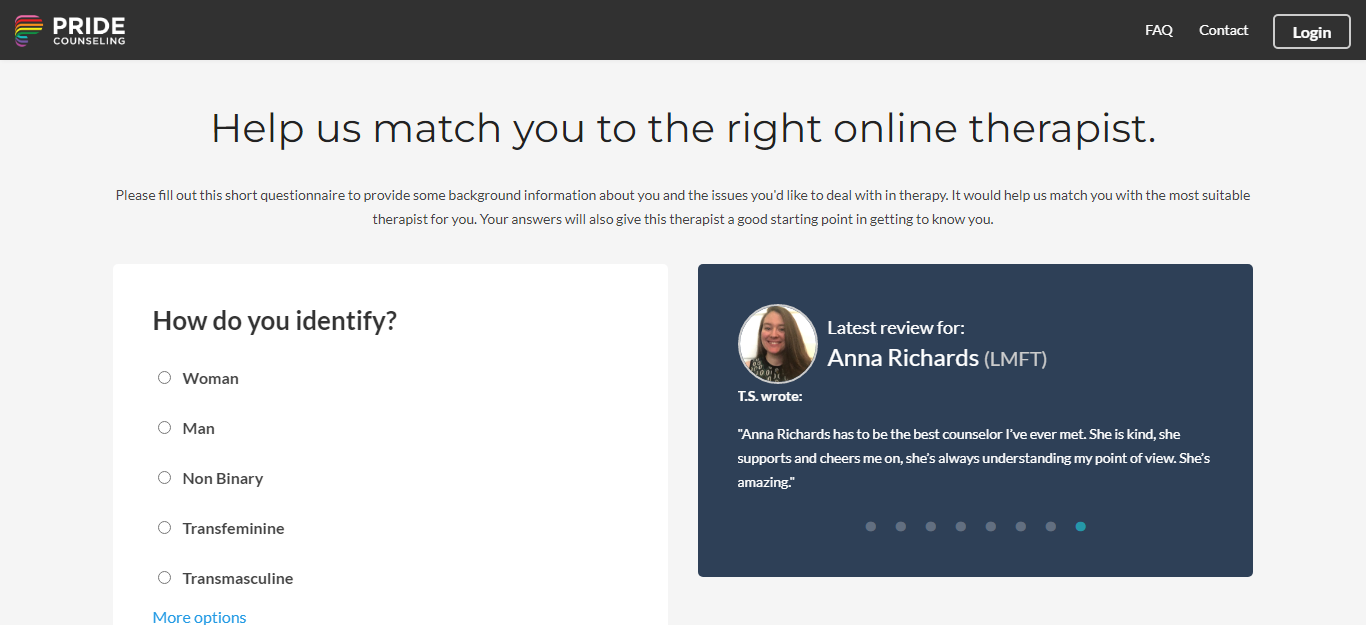 Qualities of a Gender Therapist
A gender therapist is expected to have these qualities:
A recognized member of the World Professional Association of Transgender Health (WPATH): A licensed gender therapist should be associated with this organization because it determines the appropriate gender-related procedures. In addition, certain vital information relating to you is only accessed by the organization members.
Warm, welcoming, and discrete: Bossy and domineering therapists do not create the right environment for gender clients. Their clients should be free to express themselves rather than cower in silence or unease.
Firm but soothing to clients: The ideal therapist should ensure that they maintain a good and professional relationship with their clients at all times.
Knowledgeable about gender conditions and struggles: Not every gender therapist has adequate knowledge of gender identity, dysphoria, transgender struggles, and other conditions. So, one thing you should watch out for is if your gender therapist will meet your needs.
Ability to refer you to the right professionals: Professionals like psychiatrists, endocrinologists, and other services liaise with each other to help their clients. Hence, your therapist should choose competent professionals for the task.
Gender Therapy is an essential tool for everyone. It helps with our inner struggles and how we interact with the world.
So, the role of a gender therapist cannot be overemphasized. Although, getting the right one close to your locale might be a bit difficult, try to contact one. It will be worth your time!