Best Online MTF Therapist
You are probably in doubt of whether you should transition or which gender you are.
The easiest way to get your answer to those questions is talking to someone who has lots of experience with that you are dealing with, namely an online gender MTF Therapist.
In this article, I will tell you about the company I believe to be the best online MTF therapy company; not only that, they will give you all the MTF transition help you need.
I will also answer any questions that might come to mind, such as 'how long does MTF transition take' and 'how long do you have to see an MTF gender therapist.' Ready? Let's go
The task is more difficult when you are specifically looking for a transgender therapist who deals with LGBTQ-related concerns. I have found one company in particular that can help and with whom you will feel at home. Pride Counseling offers professional counseling services to the LGBTQ community online.
Pride Counseling – Why it's the best online MTF Therapy
They believe everyone should have access to aid, whether dealing with mental health concerns, issues related to their identity, or simply needing someone to talk to.
They were established because of the disproportionately high percentage of mental health problems among members of the LGBTQ community.
They help the LGBTQ community by offering online aid and support to all those who might need it. Their platform enables people to covertly, inexpensively, and conveniently access the assistance they require.
The nice thing about these therapists is that most of them are members of the LGBT community; therefore, they are knowledgeable in their areas of specialization.
For instance, some experts know how to deal with certain difficulties like depression, and anxiety, while others are experts in specialized areas like mindfulness-based techniques.
You can use Pride Counseling's matching engine (try it out for yourself) to find the therapist who best meets your needs.
The matching engine operates as follows. You will be requested to complete a questionnaire with numerous multiple-choice questions as soon as you open the website.
It would be best if you answered these questions primarily so that the website's algorithm can locate online mental health specialists who can accommodate your particular needs.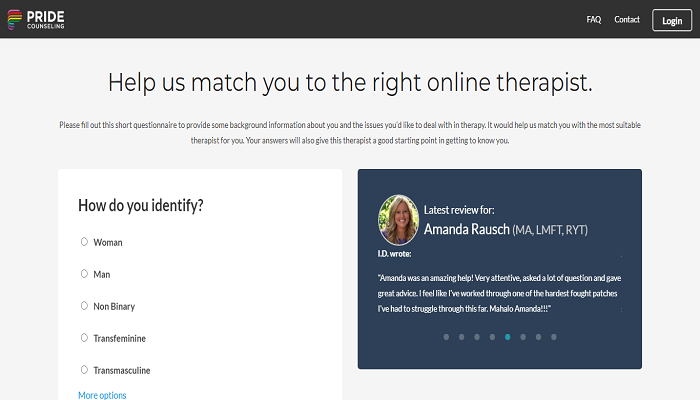 Assessments will serve as the basis for the gender treatment sessions. That implies that you will speak candidly with your therapist as they attempt to accurately examine your problem in order to offer the ideal MTF transition help. Your therapist will allow you to speak freely.
Within the comfort of your own home, Pride Counseling enables you to discuss your gender identity concerns with your therapist openly. Your counselor's job is to understand, listen to, and inform you of the steps you need to take to address your gender difficulties.
Examples of MTF therapists from Pride Counseling
Erica Harris (LCSW-Licensed Clinical Social Worker)
Erica is a social worker that offers solutions to clients confronting challenges that could worsen their mental health. As she listens to them, Erica offers advice on how they might improve or modify their circumstances.
Jeana De Lay (LMFT, MA-Licensed Marriage and Family Therapist)
If you work with Jeana, you'll get advice on lowering stress and leading a happier life as a couple or family.
When someone with gender dysphoria encounters resistance from their family, Jeana is there to support them. Jeana will offer them the required therapy, which is online counseling, or she may advise further measures they should take to deal with the circumstance. She can even assist with hormone therapy and substance misuse.
When registering with Pride Counseling, you must answer a few questions first. These inquiries are more about you and the therapy you will be receiving. For instance, you may be asked about your desired sexual orientation, gender identity, and pronoun preferences.
The website will swiftly identify a therapist who suits your particular needs if you provide honest answers to all of these questions. You will be linked to an available therapist who perfectly suits your category once you have provided the correct answers to the questions.
You might wonder, how long do you have to see an MTF gender therapist? Well, that depends on you and how open you are with your therapist. That means the answer to 'how long does MTF transition take' also depends on you.
Most in-person therapists bill between $65.00 and $250.00 for every 60 minutes of therapy. Even worse, most are generalists with little expertise in transgender issues.
Pride Counseling is the finest option if you want to work with an affordable gender specialist who can treat gender dysphoria and gender identity disorder. One query is raised. Pride Counseling costs $60 to $90 per week (billed monthly).
You will locate a gender dysphoria therapist online more quickly than anticipated if you suffer from this condition. The fact that you pay on a subscription-based basis each month is another fantastic feature of this platform.
This is crucial because paying monthly will save you money on transaction fees. In return for your innumerable counseling sessions, you will pay this sum. Additionally, you pay for using the platform.
You are free to cancel your subscription to the platform at any time because billing is done using a subscription-based model. The two most popular payment options for your subscription are PayPal and credit card.
What's the best online MTF therapy?
Have you had trouble locating a transgender therapist online to assist with your gender dysphoria and mental health issues?
Take quick action to improve your life and stop spending time and money online. You need a platform with highly qualified experts in LGBT issues. Pride Counseling has my highest recommendation. It will enable you to get in touch with knowledgeable therapists who can support your recovery from your circumstance.